11 Movies that will make you think again about not to give up
1 year ago Hunt Media Desk 0
The road to success isn't easy. There would be many rough patches along the way and a time might come where we are all consider giving up. Yes, we all have been there! Perseverance is exactly what pays off and saves us from falling off the wagon. The hope of achieving our goal keeps us going on. All of us have to deal with neck to neck competition in the modern era, making us tired and losing hope eventually, but is it worth giving up after travelling such a long way. When we see underdogs take on extraordinary goals, despite all adversities, we can relate to them. We all need inspiration and movies which could be a great source. If you ever feel like giving up or don't see any ray of hope to carry on your task, watch these 11 movies to encourage yourself to keep going.
The Shawshank Redemption (1994)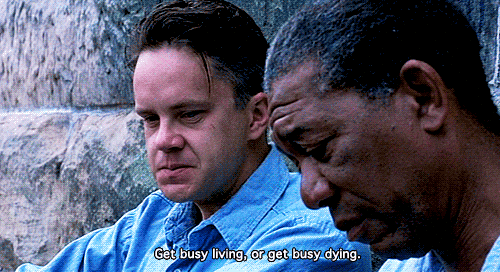 Source: Giphy
Andy Dufresne, a banker by profession is convicted of the murder of his wife and sentenced to serve 19-year in Shawshank State Penitentiary. This films reminds up the inability of to lock up one's mind and spirit. As said in movie, 'Fear can hold you prisoner. Hope can set you free.' The film ends with Andy's escape and also his mate, Red's redemption making it an inspiring story of hope, faith and bonding.
The Sunset Limited (2011)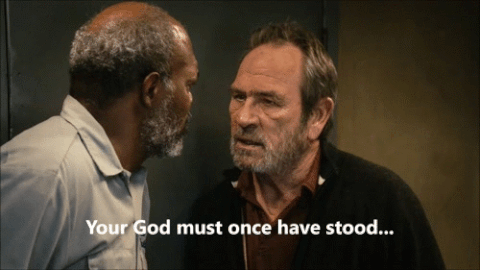 Source: Giphy
Nihilistic professor White's attempt to commit suicide by jumping in front of a train is thwarted by Black, a devout. Locked in a philosophical debate, can Black save White from cynicism and despair? It's an impeccably inspiring movie which makes us question even the simplest human behaviour and think rationally.
Into The Wild (2007)
Source: Giphy
Christopher McCandless, a young free graduate, 'I don't believe in careers Mr. Franz, I think careers are a 20th century invention,' decides to renounce all his possessions and embarks on a journey to Alaskan wilderness. During his journey, he encounters several situations which change him as a person. An inspiring story of choosing an alternate life path in today's competitive world makes Into The Wild a treat to watch.
The Pursuit Of Happiness (2006)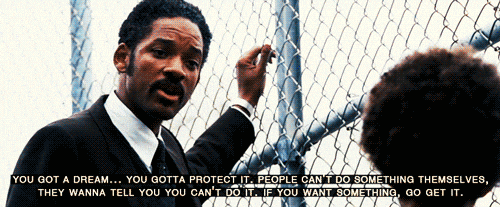 Source: Giphy
This movie portrays the struggle of a father to provide a good future for his son. Chris Gardner takes up an unpaid internship in a brokerage firm after he loses his life's earnings selling a product he invested in. His wife leaves him and he is left with the custody of his son. The movie at its core has the message of never giving up. When nothing good is happening is their life from facing financial crisis to unstable job, separation from wife to getting evicted from their home, Chris tries to find happiness in the company of his son.
The World's Fastest Indian (2005)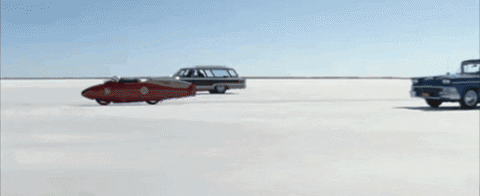 Source: Giphy
Burt Munro, a motorcycle enthusiast spend years rebuilding and perfecting 1920 Indian motorcycle but he did not lose hope and it helped him set the land speed record at the 1967world record at Utah's Bonneville Salt Flats. The story of Burt Munro tells us that if you believe in something, don't give up. 
Whiplash (2014)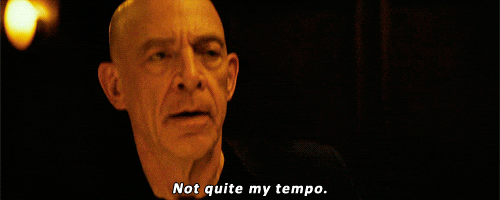 Source: Giphy
Andrew enrols in a music conservatory to become a drummer. But he is mentored by Terence Fletcher, whose unconventional training methods push him beyond the boundaries of reason and sensibility but Andrew didn't give up because following your passion means complete renunciation of mediocity.
The Pianist (2002)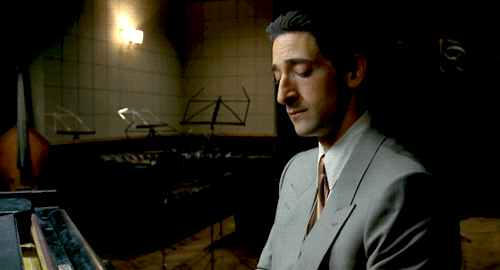 Source: Giphy
During the WWII, acclaimed Polish musician Wladyslaw faces various struggles for survival as he loses contact with his family. The power of music was the pianist's only support through his tough times. As the situation worsens, he hides in the ruins of Warsaw in order to survive.
Life Is Beautiful (1997)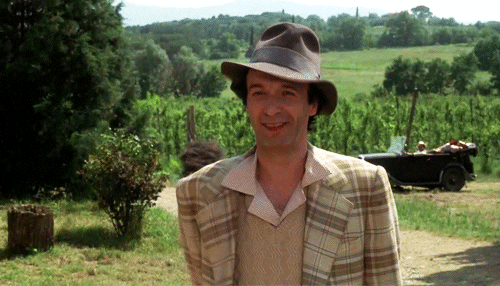 Source: Giphy
Life is beautiful is a story of hope and imagination. A Jewish father and his family are surrounded by Nazi death camps. Living in a hostile environment, he tries to keep his son happy by convincing him that their time in the concentration camp is just a game. He uses humour to shield his young son from the grim realities of war, if that's not inspiring, what else could be?
12 Angry Men (1997)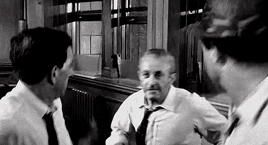 Source: Giphy
A dissenting juror in a murder trial slowly manages to convince the others that the case is not as obviously clear as it seemed in court. This movie reinstates our faith in dialogue and reasoning proving that no decision is beyond change. The movie, though shot in one room, elaborately explores various aspects of human behaviour.
Forrest Gump (1994)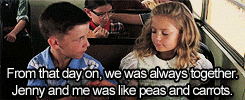 Source: Giphy
Forrest Gump, a man with a low I.Q., joins the army for service where he meets Dan and Bubba. He tried to make people around him happy in his own small way. However, he cannot stop thinking about his childhood sweetheart Jenny Curran, whose life is messed up. The film portrays the sentiment of innocence and love, making us grateful for the simple joys of life.
Rocky (1976)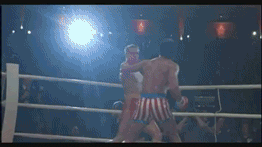 Source: Giphy
Rocky Balboa, an underdog, gets a chance to fight heavyweight champion Apollo Creed. In a bid to earn respect and glory, Rocky jumps into the ring, unaware of the tough task ahead of him. This film portrays a story of man, who from a 'nobody' becomes a 'somebody' is sure a treat to watch.